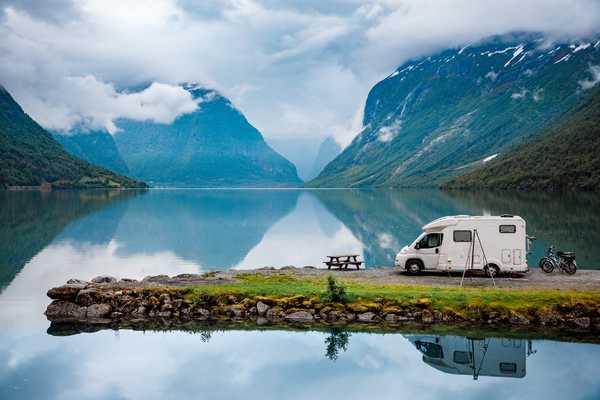 20 Amazing Motorhome Holidays and Routes to try in 2022
The whole point of owning a motorhome is that you can go away with it and have nice holidays wherever you please, otherwise what's the point of buying one, right?
As you can imagine, finding a place to holiday isn't as easy as you thought with so many places to go and see but not enough of a solid source to confirm to you that you should go to these places, don't worry, that's where we step in.
We've compiled a list of 20 places you should be looking to go on your next holiday in your home on wheels, or simply a nice drive:
Betws-y-Coed
This small Welsh town is set within a mountain and is the home to campers and climbers galore who fill the towns pubs and restaurants sharing stories of their escapades. It is a great place to go to if you are a fan of outdoor activities.
Snowdonia National Park
Another one for the climbers amongst us, fancy climbing to the peak of Snowden? Well this is the place for you, it is more than a kilometre above sea level and gives you some incredible views, the best part, if you don't want to hike up there, there is a train on offer!
The Camel Estuary
Cornwall is home to some incredible towns and views, The Camel Estuary is one of those, with plenty of beaches to go surfing at and long walks you have all you need here to enjoy life by the seaside.
Lulworth Cove
This Cove based in Dorset is a geologists dream, it is a Jurassic Coast World Heritage Site and is a great example of marine erosion that swoops around forming a bowl in the coastline. There are plenty of water based activities and walks to be had here!
Isle of Skye, Scotland
The Isle of Skye is known for it's landscapes, incredible villages and castles and makes it a perfect destination to go sightseeing and exploring.
It has plenty of myths to uncover and learn about in the local pubs with the locals and is easy to access thanks to a bridge.
Norfolk, England
Norfolk is incredibly popular for its scenery and protected areas, it is great for those with motorhomes thanks to the wildlife on offer here and is peaceful all year round. Within Norfolk is the town of Norwich which boasts an 11th century cathedral and some long walks to do some sightseeing!
Pembrokeshire Coast National Park
In the South of Wales is where this National Park lives and is perfect for motorhome holiday enthusiasts thanks to its incredible, picturesque beaches, open countryside and wildlife and its cliffs, not only that but you have the chance to visit the Brecon Beacons giving you even more options.
It is an incredibly popular destination and is great for the summer where you can take full advantage of the beaches, sunshine and local towns where you can get something to eat and drink. With nearby castles and walking routes on offer there is plenty of exploration to be done!
North Devon
North Devon has everything you could want or need from incredible views on Exmoor National Park to iconic beaches in Ilfracombe, Woolacombe, Croyde and many more where you can catch some waves surfboarding or simply spend a day at the beach.
With plenty of fishing towns and small towns to visit there really is something for everyone here with plenty to explore and is great for the whole family. The Giant's Causeway
One of the most famous places in the UK, it is an area of around 40,000 interlocking basalt columns forged by volcanic nature nearly 60 million years ago and is a sight to behold. It is one of the best historical landmarks in Northern Ireland and is great for hikers and sightseers.
Dartmoor
Dartmoor National Park attracts thousands of visitors every year and is a vast and open moorland in Devon, with large forests, rivers and tors to explore there is plenty to do here with pubs and restaurants dotted around to see.
Dartmoor Prison Museum is a place of note and has hosted some of the most dangerous criminals in the UK, there is a museum which can be visited where you can see the history of the prison with artefacts and documents on display.
Ullswater
Ullswater is the second largest lake in the English Lake District and shows off some of the best that the Lake District has to offer including a stunning waterfall and many places to walk.
There is plenty to do here from hiking activities to water sports and even the chance to swim in the Lake District, it's an incredible place and ideal for motorhome holiday enthusiasts.
New Forest Water Park
If water sports are your thing then there's no doubt that this water park is the one for you with lots of wakeboarding activities and even a huge inflatable assault course on a lake where you can test your skills!
There are plenty of water activities to get involved with including kayaking, plus when you are tired of being out on the water all day, you can relax in the local camping park with and Inn.
The North Coast 500, Scotland
The North Coast 500, or 'NC500' for short is one of the most beautiful and scenic routes in the entirety of the UK, it's a 500+ mile route across the north coast of Scotland and passes through some of the best landscapes that Scotland has to offer.
From white sandy beaches to rugged mountains and small villages it has everything on offer here with something for everyone, it is a trip that will take you a week, or more if you want to do it properly but is well worth the time spent to enjoy yourself here.
Cotswolds
This is the best place in the UK for walkers with fields and countryside galore to explore and view with plenty of small towns to visit and learn about. With a rich history and plenty of great locals, there will be something for everyone!
St Jude
Cornwall is home to some of the most beautiful scenery in England and there's no surprise that it features many times on this list, St Jude has plenty to offer including old mines and plenty of streams and rivers, that's not forgetting the Eden Project which is home to indoor rainforests.
We can't forget about those Cornish pasties either!
Lands End
If you're going to Cornwall, you may as well go to Lands End and snap a photo with the famous sign to show everyone where you've been. After all, it's not every day you can go to the bottom of the country for a day.
With vast open views and walking places, this is the one for you if you want to feel the fresh air on your face and the wind on your back.
John O Groats
Did you really think we weren't going to include John O Groats on this list after adding Lands End? If you're visiting one, you may as well visit the other. You could even make it into a trip and go from Lands End all the way to John O Groats, stopping off at cities and towns along the way and doing some sightseeing.
The distance between the two is 874 miles or 1,407km and could take one or two weeks of driving and sightseeing to complete.
Belfast to Londonderry
This is one of the greatest roads in the world, it passes through the nine Green Glens of Antrim and even passes before mentioned The Giants Causeway, there is plenty of wildlife to see on this journey alongside some stunning views as you drive along the seawall, definitely isn't one to miss out on!
Black Mountain Pass, Wales
One of the shorter trips on this list, the Black Mountain Pass contains jaw dropping scenery on a sweeping road that flows through and around the black mountain. The road is only 15 miles long but gets pretty ruthless at times thanks to its tight hairpins and scary corners.
The highest point is a massive 1624ft above sea level and showcases some stunning views along the way, featured on Top Gear in 2011, this one is unmissable.
Atlantic Highway, North Cornwall
The Atlantic Highway stretches over Cornwall, Devon and Somerset going through small villages, rugged coastlines and stunning countryside views. There are plenty of things to keep an eye out for including red deer in Exmoor and even Lands End.
You can stop off for a cream tea also and soak up the sunshine, just make sure to do it the Devon way, aka, the right way, cream and then jam and absolutely not the other way around. Conclusion
To conclude, these are 20 of the most picturesque and stunning drives and holidays you can find in the UK that you must try at some point, even if it's not in 2022.