Compare motorhome insurance
Get quotes and compare prices
online or over the phone
What is motorhome insurance?
Motorhome insurance is an insurance policy that can help protect your motorhome when it's on the road or parked. It can cover you for risks such as accidental damage, fire, theft, and damage caused by third-parties (other people).
Additionally, should you require them, it may also be possible to add-on other benefits such as European cover, breakdown assistance, and contents cover for the personal belongings in your motorhome.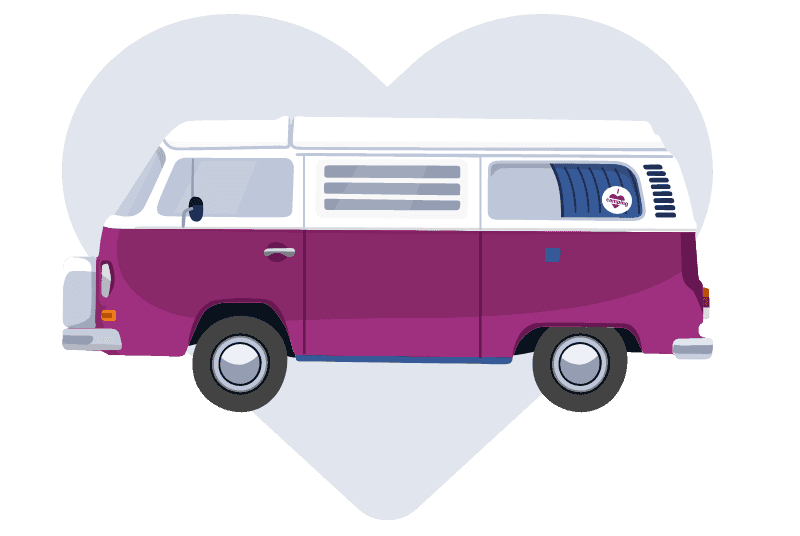 How comparison works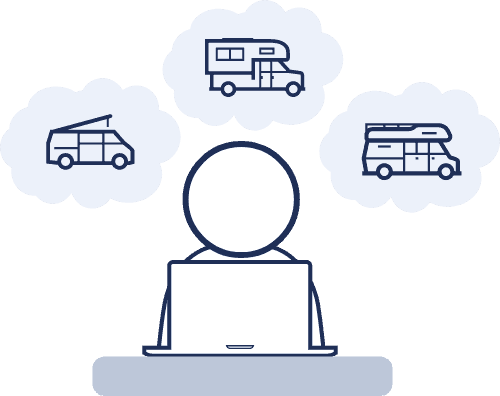 1
You tell us details about yourself and what you're looking to insure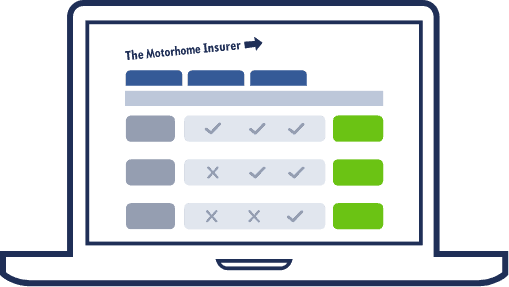 2
We provide instant quotes from a panel of top UK insurers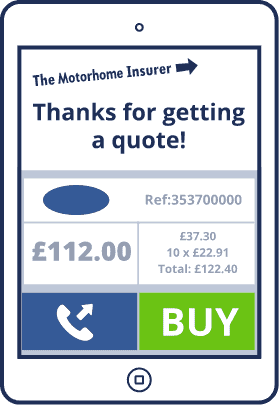 3
You choose the policy you want, buy it, and job done!
Why compare quotes with us?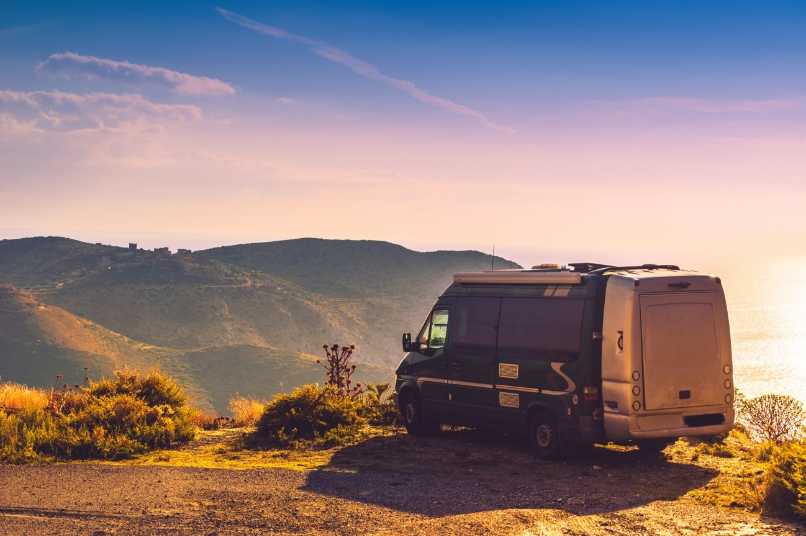 It's tempting to stick with the same insurer every year, but without having a look around the market you have no way of knowing whether your renewal price is competitive or not. That means you could be paying more than you need to for your insurance.
No one wants to spend hours phoning different companies, going through the same information again and again, only to find out that the first insurer you phoned had the cheapest price – which is where we come in. When you compare quotes with The Motorhome Insurer you only have to provide your details once and we do the rest of the hard work for you.
Looking for your insurance with The Motorhome Insurer could save you time and money.
What level of cover do I need for a motorhome?
Motorhome insurance is a legal requirement in the UK, just like car insurance. If you want to take your vehicle out on public roads, whether for commuting or a holiday road trip, your motorhome needs third-party insurance coverage at a minimum.
Instead of third-party only cover, there are two other standard forms of insurance coverage that motorhome owners may choose to purchase. Comprehensive insurance, which covers their own motorhome for accidental damage, and a policy type called Third-party, fire and theft which in addition to standard third-party only coverage, also protects your motorhome against damage from fire or theft.
Third-Party Only - this is the UK's minimum legal requirement of insurance you must hold for your vehicle. It covers you for damage or injury to another person or their property if you cause an accident. However, you and your own vehicle will not be covered, and you will not be able to claim with your insurance. Damage caused by theft or fire is also not covered by a Third party only policy.

Third-party, fire and theft - in addition to third party only cover as listed above, insurers will cover you if your car is stolen or damaged by fire.

Fully Comprehensive - provides everything included under third party, fire and theft and will also cover you if your motorhome is damaged or destroyed in an accident.
What is classed as a motorhome?
Motorhomes are recreational vehicles designed for living in comfortably and travelling from place to place.
They can be very large (such as those categorised as Class A) or much smaller (Class B), such as campervans which are similar in size to typical vans that builders or other tradesmen might use. A vehicle must meet specific criteria to be considered a motorhome, however.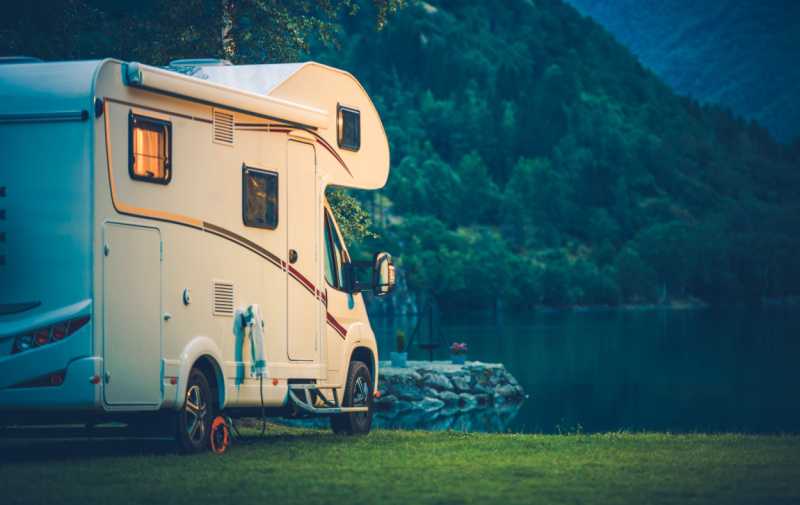 These vehicles typically have basic or luxury amenities such as beds, a kitchen (with seats and a table), a bathroom and adequate storage facilities. These features can make them suitable for extended trips or even full-time living.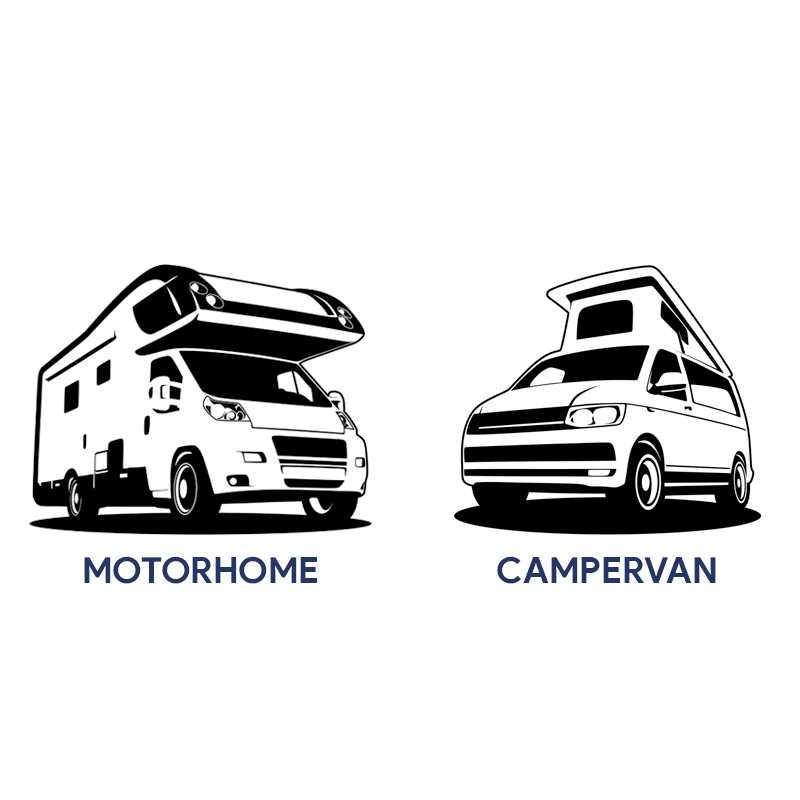 The difference between motorhomes and campervans
Motorhome and campervan are terms often used interchangeably, but the two have some key differences.
A motorhome is a self-contained recreational vehicle that doubles as living accommodation. Motorhomes typically offer more space than campervans, with many models having a separate bedroom area and extensive kitchen and bathroom facilities.
Campervans are smaller, more compact vehicles, often built on a standard van chassis. They provide great manoeuvrability for the driver and are easier to park, making them popular with those who prefer a minimalist on-the-road lifestyle.
How much does motorhome insurance cost?
There is no simple answer to this question, as there are several factors which might affect the cost of motorhome insurance, including those listed below, but according to data from The Motorhome Insurer, 51% of customers who requested a quotation for fully comprehensive motorhome insurance by using their online price comparison services were quoted £310.34 or less during the period 1 January 2023 to 31 March 2023.
The main types of motorhome insurance usage
Social, Domestic and Pleasure (SD&P)
SD&P covers motorhomes solely used for social, domestic, and pleasure purposes, such as family holidays or weekend trips. It does not cover the motorhome for business-related activities, including your daily commute or any commercial use.
Social Including Commuting
Social including commuting coverage is ideal for those who use their motorhome as a mode of transportation to and from one place of work in addition to using it for general social purposes including trips away from home.
Business Use
As well as for social and commuting purposes, business use covers motorhomes used for business or commercial purposes, such as transporting goods or equipment, visiting clients,  or journeys beyond just your commute to work.
How to try and reduce the cost of your motorhome insurance quote
There are several ways that might help to slash the price of your motorhome insurance:
1. Get the right cover for self-builds (modified): Specialist insurers may be able to offer cheaper policies for heavily modified vehicles or those fitted from scratch.
2. Park somewhere safe: Keeping your motorhome on the street can make your insurance more expensive. Using your driveway or garage to store your vehicle may reduce costs.
3. Get qualified: By obtaining advanced driving qualifications, you can help show insurers you are safer on the roads and less likely to have an incident.
4. Security improvements: Adding motorhome security devices to your vehicle, like alarms, wheel clamps or tracking devices, may make insurers more confident that your vehicle won't be stolen.
5. Beware of add-ons: If you have any other policies, check what they cover so that you don't buy any unnecessary add-ons.
6. Compare: To get the best deal, shop around. Compare motorhome insurance quotes and find the right policy for your needs.
7. Pay annually: Paying your motorhome insurance in one go rather than in monthly payments may help reduce the cost.
What motorhome insurance add-ons can I choose?
1
Breakdown Cover & Roadside Repairs: This provides assistance if your motorhome breaks down while you're on the road and can cover towing and repairs.
2
European Cover: This insures your vehicle for any trips outside the UK to Europe, and may include breakdown and emergency assistance abroad too.
3
Legal Expenses Cover: This may help cover any legal expenses that arise from an accident involving your motorhome.
The exact level of coverage these add-ons provide may differ from insurer to insurer, so be sure to check the policy wording before making a purchase to ensure it's suitable for your needs.
What is included in the policy?
What other forms of protection come with motorhome insurance, alongside your comprehensive insurance coverage?
Some insurers offer additional coverage as part of the core insurance policy. However, not all insurers provide the same level of cover so make sure to read the policy booklet carefully to ensure you know what you're covered for. Some typical additional insurance might include:
Personal Possessions Cover
This covers personal belongings in your motorhome, such as clothing, electronics, and camping equipment.
Awning and Equipment Cover
This covers damage to awnings or other equipment attached to your motorhome, such as satellite dishes or bike racks.
Windscreen Cover
This covers the cost of repairing or replacing your motorhome's windscreen in case it is damaged.
What motorhomes can be insured?
Insurance policies in the United Kingdom can cover most motorhome categories. These include Class A, B, and C motorhomes, converted vans, camper vans, and recreational vehicles.
The vehicle must be registered with the DVLA and have a valid MOT (if it is over three years old) to be eligible for motorhome insurance. It must also be in a roadworthy condition. However, the specific requirements for insurability may vary by insurer.
Some insurers may have additional requirements, such as limits on the driver's age, the type of licence held, and the vehicle's purpose. For example, some insurers may not cover motorhomes used for business or rented out to others.
It's essential to carefully review the terms and conditions of any motorhome insurance policy to ensure that it meets your specific needs and provides adequate coverage for how you intend to use your motorhome.