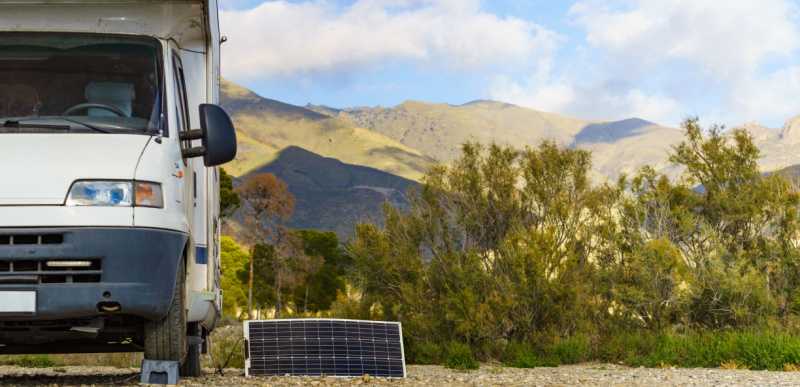 Best Motorhome Accessories You Will Actually Use on Your Next Trip!
If you're a lover of motorhome holidays, you know there's nothing worse than leaving something important at home. Now, you have to run around supermarkets searching for items you already own!
Your next motorhome holiday will be different. At The Motorhome Insurer, we're here to tell you the best motorhome accessories you will actually use on your next trip. Say goodbye to clutter and mess because these accessories will take your trip to the next level. 
1. Wifi Booster 
In this modern age of technology, wifi has become a vital commodity of family road trips. How else will each passenger watch their favourite show, all at the same time?
While living in the moment is what motorhome holidays are all about, streaming platforms, smartphones, and laptops can be an excellent way to while away the evenings.
However, problems can arise when your mobile phone data and free-campsite wifi signals weaken. To avoid bickering amongst siblings, partners or parents about who can watch what and when, pick up a wifi-booster.
Available in a range of electrical retailers, a wifi-booster can be attached to your motorhome to allow you to pick up signals from further away. Wifi-boosters are one of the best motorhome accessories to have on board if connectivity matters to you.
2. Solar Panels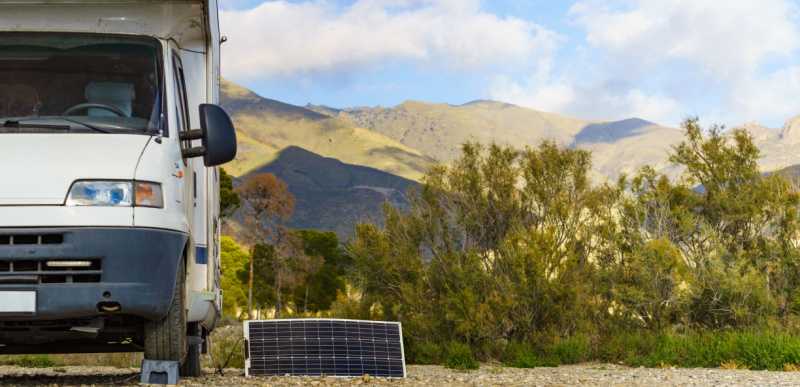 Installing solar panels on your motorhome will improve your trip no end! Available at any good camping store or online retailer, motorhome solar panels could save you money as soon as you get to your campsite.
Rather than having to pay to hook up to a campsite's electricity source, you can run off the sun's rays. They won't take up any of your much-needed space inside the motorhome, as they can be installed discreetly on the exterior.
Do you need a low-budget option? Don't worry! You can purchase folding, portable solar panels for your motorhome holiday. They are one of the best motorhome accessories for saving money via natural resources.
Charging multiple electronic devices at one time has never been easier. If you want to start saving money, invest in a permanent or portable solar panel for your motorhome holiday.
3. Clothes Organisers and Laundry Bag
Whether your motorhome holiday will last for a few days, weeks or months, the cleanliness of your interior will improve with the use of clothes organisers! Believe us when we say even a few days worth of outfits take up more space than you realise.
To keep you and your rooms tidy, purchase packing cubes from an online retailer or homeware store. You can store underwear and socks in one compartment and tops and pants in another! It's as simple as it seems.
However, you don't want to muddle up your clean and dirty washing. You could be doing intense physical activities during your motorhome holidays, such as hours-long hikes or bike rides through the countryside.
In that case, you'll need a washing bag to keep your clean clothes separate. You can find cheap, compact washing bags online or in supermarkets. Clothes organisers and laundry bags are the best motorhome accessories for keeping your wardrobe in check!
4. Thermal Screens / Blinds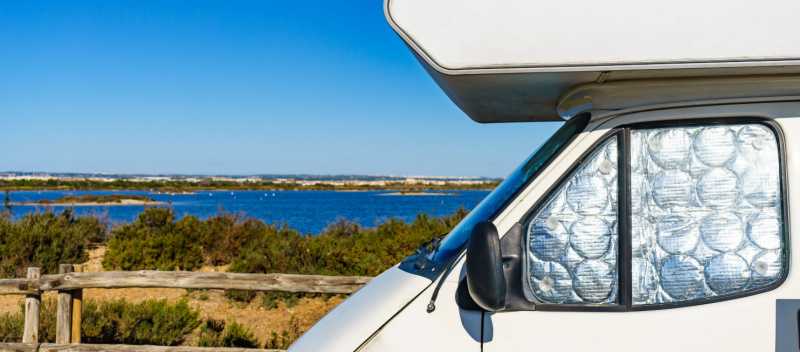 Have you ever heard of using thermal screens on your motorhome holiday? Thermal screens are perfect for cooling your car during the summer months and keeping it warm in the winter.
They come in many different shapes and sizes, meaning you can purchase a set that best suits the windows in your vehicle. Simply fit them with some easily-removable suction cups and remove them when required.
Thermal screens are one of the best motorhome accessories for saving money on heating and cooling your vehicle. What's not to love?
5. Gas Kettle
Everyone loves a cup of tea, right? If so, a gas kettle allows you to make a vast array of hot beverages for all your passengers to enjoy.
Imagine returning to the comfort of your motorhome after traversing through the snow, only to realise your dreams of hot chocolate are dashed.
All jokes aside, keeping a high-quality gas kettle in your motorhome can fulfil many different purposes. There is no guarantee that your motorhome has the appropriate electrical hook-up for a standard kettle.
That's why a sturdy, portable gas kettle can be both a lifesaver and a space saver.
6. Barbecue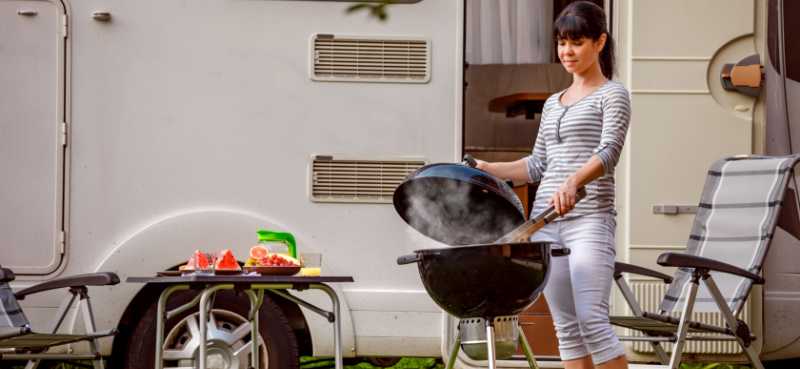 Would a motorhome holiday even be complete without a barbecue? Nothing compares to the delicious smell of charring food cooked in the fresh air of a campsite.
Surrounded by good food and even better company, taking a portable barbecue with you on holiday will help you make memories that will last a lifetime.
Of course, you must check the rules and regulations of any campsite you want to cook on, as some do not permit BBQs.
But for those that do, a small tabletop BBQ is more environmentally friendly than single-use barbecues and more enjoyable. Plus, you can use it as many times as you want. Owning a barbecue is one of the best motorhome accessories for feeding the family in a fun outdoorsy way.
7. Magnetic Glasses
When you embark on a motorhome holiday, be prepared for bumpy journeys! Some campsites are located in the middle of the wilderness, meaning you won't have the pleasure of driving on smoothly-paved, tarmac roads.
Every jolt has the potential to break plates or cups improperly stored in your motorhome kitchen. But with magnetic glasses, you won't have to worry! Purchase these from an online retailer, and you also receive an increased sense of security.
Magnetic glasses work as their name suggests: armed with magnets in the bottom of standard cups and wine glasses, they are a practical option for all motorhome owners.
Easily removable but hard to dislodge, magnetic glasses are non-stick and can be attached to your kitchen countertops, overheads or even magnetic coasters! They are one of the best motorhome accessories for minimising mess and keeping damage to a minimum.
8. Hammock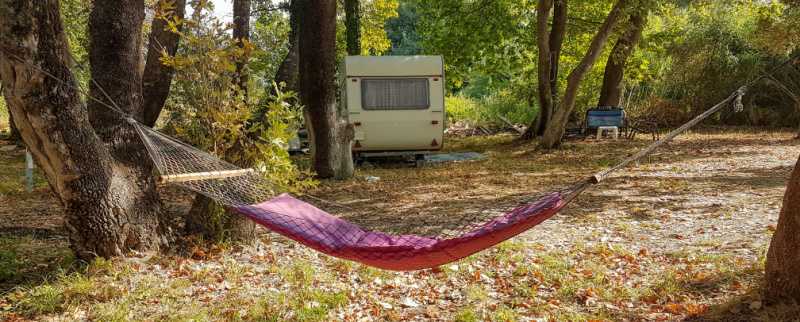 There's nothing like a hammock to help you ramp up the tropical holiday atmosphere. Campsites are typically surrounded by forests or a wealth of sturdy trees, meaning you can pull out your hammock and immerse yourself in nature.
Hammocks are a single piece of fabric made from netting and two ropes that you can tie around a branch or tree. As a result, they are not very large and won't take up a lot of storage space in your motorhome.
They may not be one of the best motorhome accessories that first comes to mind. But once you've had the pleasure of lounging in one, you'll bring one on every holiday you take
9. Fold-Up Outdoor Furniture
Admire the natural wonder of a sunrise from the comfort of your fold-up outdoor furniture. Easy to assemble and compact, fold-up furniture could take your campsite experience from good to great.
With a table and set of chairs, you and your family, partner or friends can bring the inside, outside.
Cook your dinner in your motorhome kitchen, and eat it while watching the sunset. Listen to the sounds of nature as you chat with your loved ones, delighting in the warm summer air.
Best of all, they won't take up too much storage space. Fold-up furniture is perfect for those on the go: it's compact, supportive, and a great way to fully immerse yourself in your surroundings.
Here at The Motorhome Insurer, we want to help you maximise your motorhome experience. We hope our list of the best motorhome accessories you will actually use has made your holiday preparations easier and more exciting!