10 of the Best Motorhome Campsites in the UK
Camping can be a great experience where lifelong memories are made; however, a fun holiday can easily transpire into an absolute nightmare of a trip if the facilities and holiday site you have booked yourself into aren't up to scratch. That's why we have compiled a list of some of the best 5-star campsites on offer in the UK so you can make yourself an informed decision and ensure your holiday runs smoothly.
Highlands End Holiday Park, Bridport, Dorset
If you want close access to beaches with incredible sea views, this is the one for you. This 5-star park based on a clifftop on the Jurassic Coast with 99 miles of coastal views is perfect for anyone who enjoys the seaside, it is only a 10-minute walk to Eype Beach and 15 minutes from West Bay which is perfect for family trips out.
Not only that but it offers dog friendly holidays which is perfect for families with canine members. There are many facilities onsite including a store, bar and restaurant, golf course overlooking the coast, dishwashing, a café, indoor soft play and so much more. Even a sauna/steam room and swimming poor for those who want to relax a little.
In the evenings there are events such live music and the placement atop a cliff means you will have some incredible nights of stargazing provided the weather allows.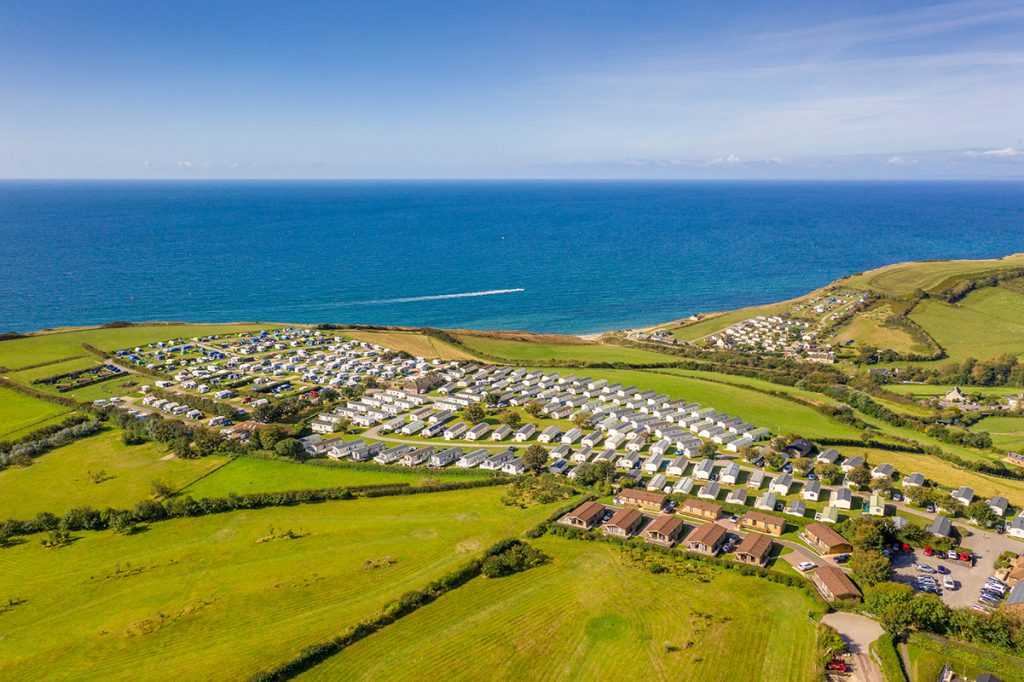 Swiss Farm Touring & Camping, Henley, Oxfordshire
Swiss Farm is a family-owned campsite based in the Oxfordshire countryside and perfectly placed for those who want to take a trip to London whilst on their stay.
The campsite is a short walk from Henley on Thames and contains landscaped grounds which have been maintained with the natural surroundings in mind, dog walking is promoted on site with an 'off-lead' dog walking area and even a dog washing station for when your four-legged friend has a little bit too much fun in the fields.
Children are welcome on site with two play areas on site to let them expel their energy, they also offer a football/basketball area and a heated outdoor pool in the high season.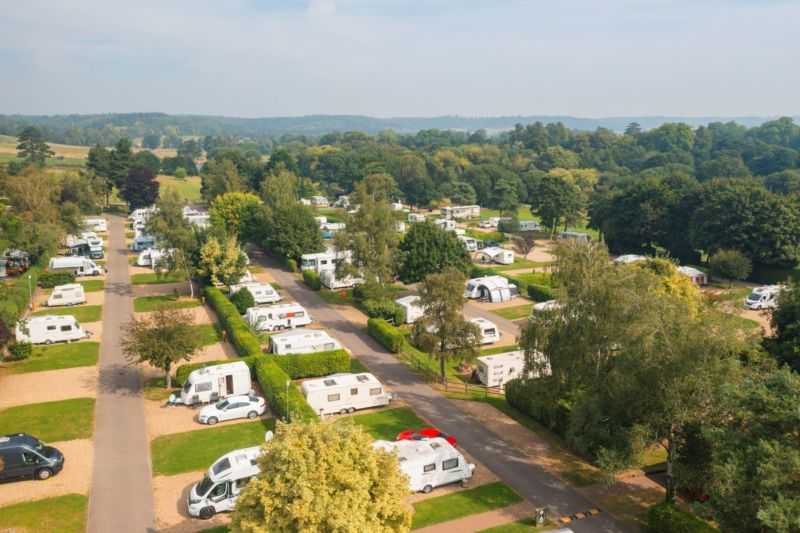 Ross Park, Newton Abbot, Devon
If you want countryside views, individually landscaped pitches, heated shower blocks and more then this is the place for you.
Based near to some of the best beaches in the UK, you are sure to have a grand holiday at Ross Park based near Newton Abbot in Devon, it is incredibly close to all the tourist hotspots of the area including Torquay, Paignton (and Paignton Zoo), Totnes and if you want a day out you can pop down to the seaside town of Salcombe for the day.
The Park is dog friendly and contains various facilities to keep you entertained on the site including pool/snooker tables, Table Tennis, a dog walking trail, Wi-Fi plus a playground for the little ones.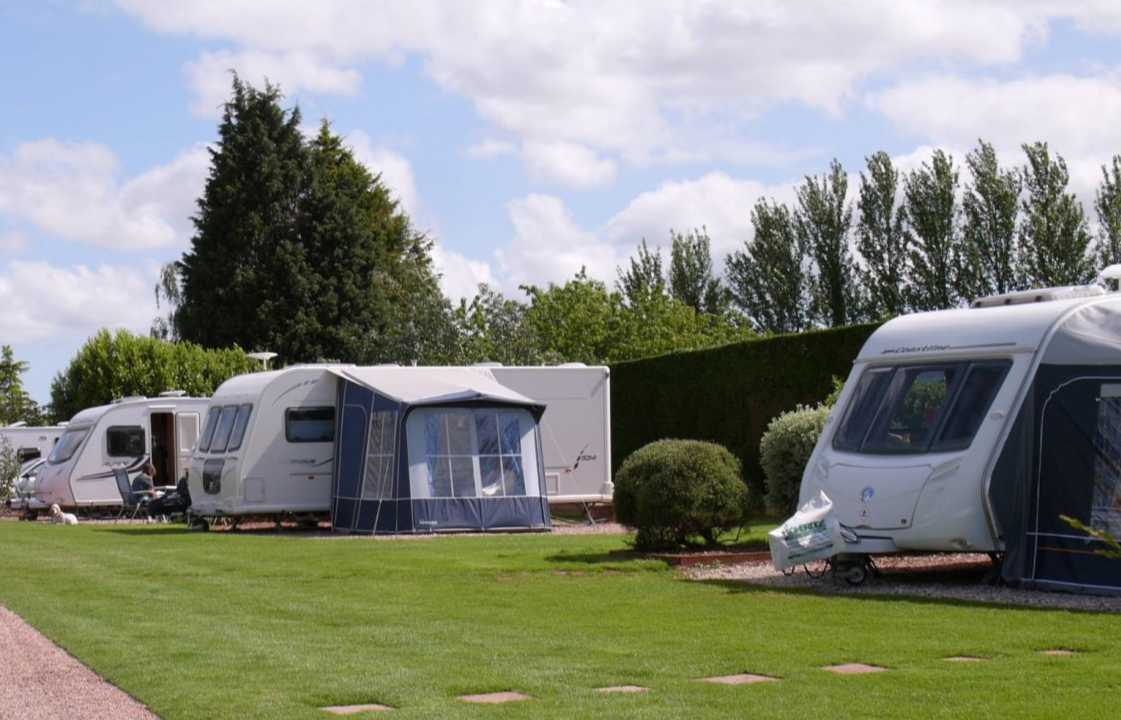 Bath Chew Valley Caravan Park, Near Bath, Bath & North East Somerset
Bath Chew Valley is an adult-exclusive Caravan Park meaning you have time to unwind with peace and quiet without having to think of little ones running around. The Park is North East Somerset's only 5 star Park and boasts the awards of the Practical Caravan Top 100 Overall Winner in 2012 + 2013 plus the Practical Caravan and Practical Motor home Top 100 Best Adult Park 2019 award.
It is the perfect caravan site for adults who want to get away and enjoy life in peace with 5 nearby golf courses and a fishing lake 800 yards from the site.
Onsite you will find internet access, service pitches, heated toilet and shower facilities plus a utility room for laundry and ironing. Dogs are also welcome with dedicated dog walks for those who want a day out with their 4-legged family member. The local village contains a shop and a pub/restaurant for essential pub lunches.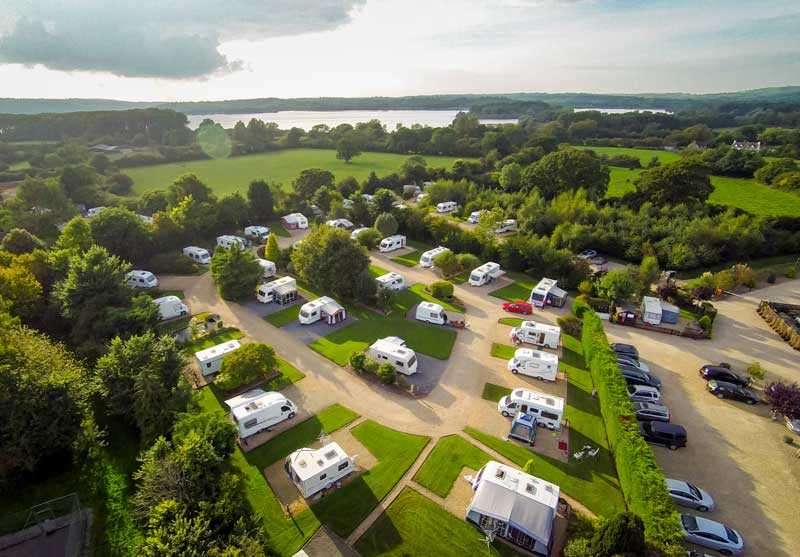 Waterrow Touring Park, Taunton, Somerset
Watterow Touring Park is another park exclusively for adults and is open all year long, dogs are welcome on site with a field dedicated for dog walks.
The site was a finalist in the Practical Caravan Top 100 Overall Campsites in 2021 and it's easy to see why, it is set in the wooded valley of the River Tone and gives you lots to do and see with Exmoor a stone throw away.
Nature is at the heart of this site with the surrounding woodland area developed to purposely create a habitat for wildlife including deer, birds, owls, otters and much more. The Park is incredibly peaceful and tranquil and is the perfect place to relax.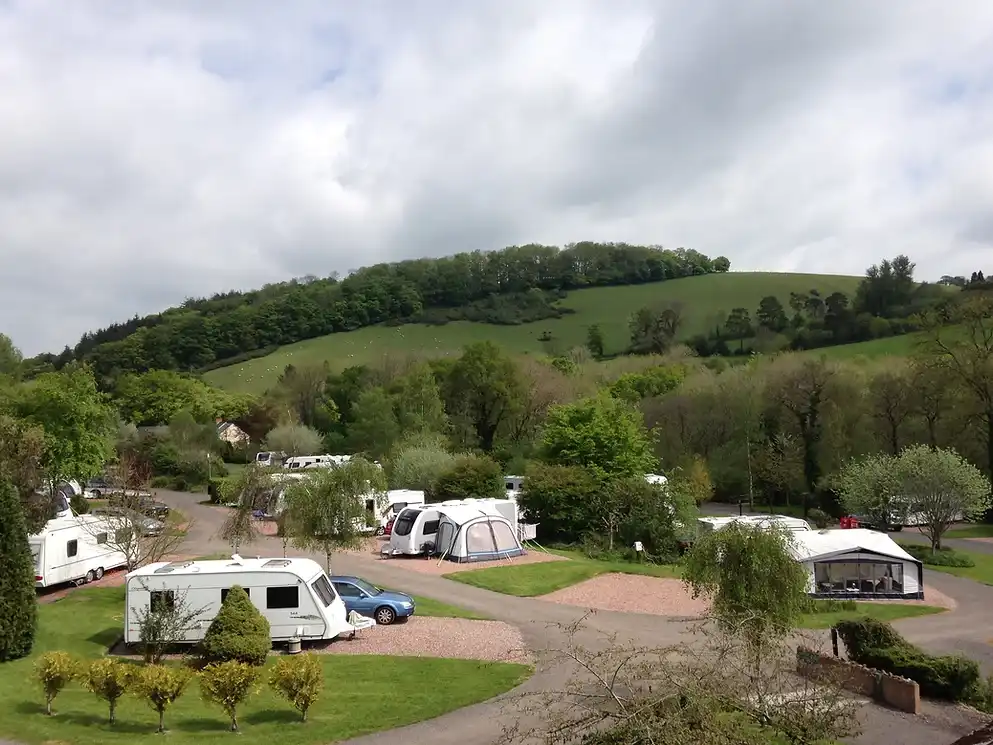 Old Oaks Touring & Glamping Park, Glastonbury, Somerset
Adults only your kind of thing? Well, the Old Oaks Touring Park is probably going to be high on your list for holiday destinations thanks to its five star touring and camping facilities which is backed up by an AA Platinum Award.
Based close to Glastonbury you are offered the perfect chance for long walks in the countryside, cycling down the cycling paths or relaxing by the lake as you try to catch tonight's dinner.
There is a lot on offer here including hot tubs, a laundrette, painting courses, onsite food, internet access, pool/snooker tables, a shop and much more. This is not one you will want to miss.
Woodovis Park, Tavistock, Devon
Woodovis Park sets the bar incredibly high; the Park welcomes children to come and stay with lots of available activities including a play area, games room, table tennis, ball games area and a nature trail to keep them entertained on holidays. Not only that but during school holidays there are additional events including water-walking, circus skills and archery!
The available food is also at a high standard with a shop that bakes fresh bread and pastry goods daily, a hog roast once a week and a pub close by that is owned by local farmers.
If you have a dog then you are in luck as there is a wooded dog walk and exercise meadow to keep them safe whilst letting them expel their additional energy.
On wet weather days you will find an indoor heated swimming pool accompanied by a spar and infra-red therapy cabin to help you relax.
Plymouth is a short drive from the site if you'd like to visit some city life and do some shopping or just have a day trip out, no matter rain or shine, you'll find lots to do here!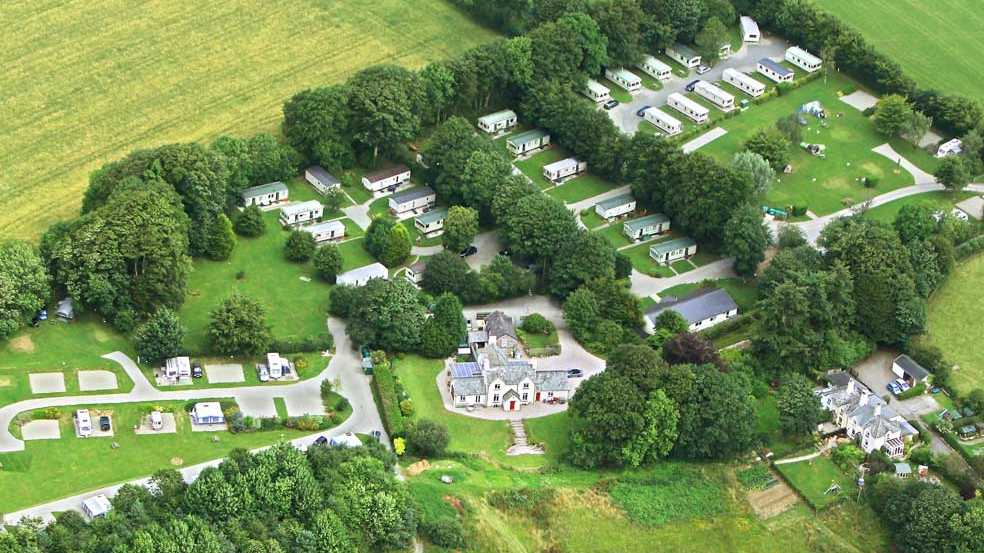 Polmanter Touring Park, St Ives, Cornwall
Five-star facilities don't come much better than this, with beautiful countryside views and the Atlantic coast at your doorstep this caravan park will cleanse the mind and soul.
Polmanter Touring Park is a family run and owned park and has been for more than fifty years derived from their love of camping with holidaying at the heart of their core values.
It doesn't matter the type of family you have, if it's with or without children or dogs you will find something for everyone in every walk of life. From indoor soft play for the children to an outdoor swimming pool for the swimmers.
A games room including a pool/snooker table plus an outside football field and tennis courts are perfect for those who enjoy the competitive side of things.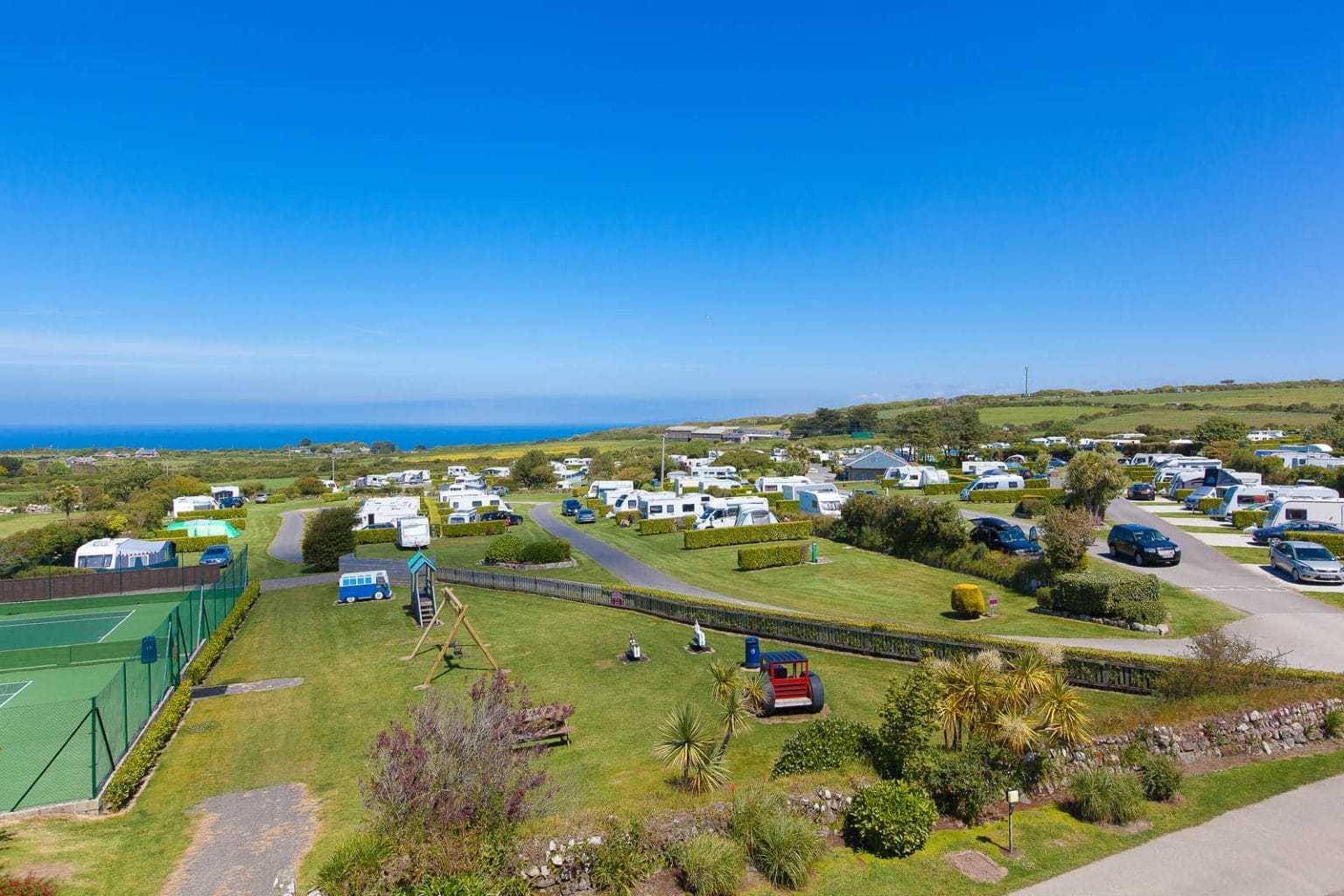 Wooda Farm Park, Bude, Cornwall
Bude is one of the best places to go in Britain, situated on the edge of Cornwall you get to experience the best of North Devon on your doorstep whilst also being able to get a proper Cornish pasty, a staple dish of Cornwall.
If you're a foodie you're in luck, with coarse fishing, a Takeaway place and a bar/grill on site you won't be going hungry.
Not only that but with access to beautiful beaches for surfing, exploring Tin Mines, walking on the scenic Cornish coast and discovering the secret coves in the area, you will experience the best of what Cornwall has to offer.
Of course, dogs and children are welcome here meaning there is fun for the whole family with playgrounds, table tennis, outdoor tennis courts and more.
We hope this has helped you to make a great choice for your motorhome trip, happy holidays!
Woodlands Grove Caravan & Camping Park, Totnes, Devon
The Woodlands Grove Caravan and Camping Park is one of the most highly rated parks in the UK, it boasts a 5 AA Gold Pennant rating and was a finalist in the 2015, 2017 and 2018 Practical Caravan top 100 sites.
Nearby to the centre you will find a 27-hole golf course plus a pool, gym and sauna with free access to the Woodlands theme park which is the largest family theme park in Devon and even contains a zoo! Great for when you have little ones who need to be entertained.
Not only that but Dartmoor is a short drive up the road where you will be able to experience stunning, picturesque views, perfect for snapping photos to make your friends and family jealous.